It's all about the family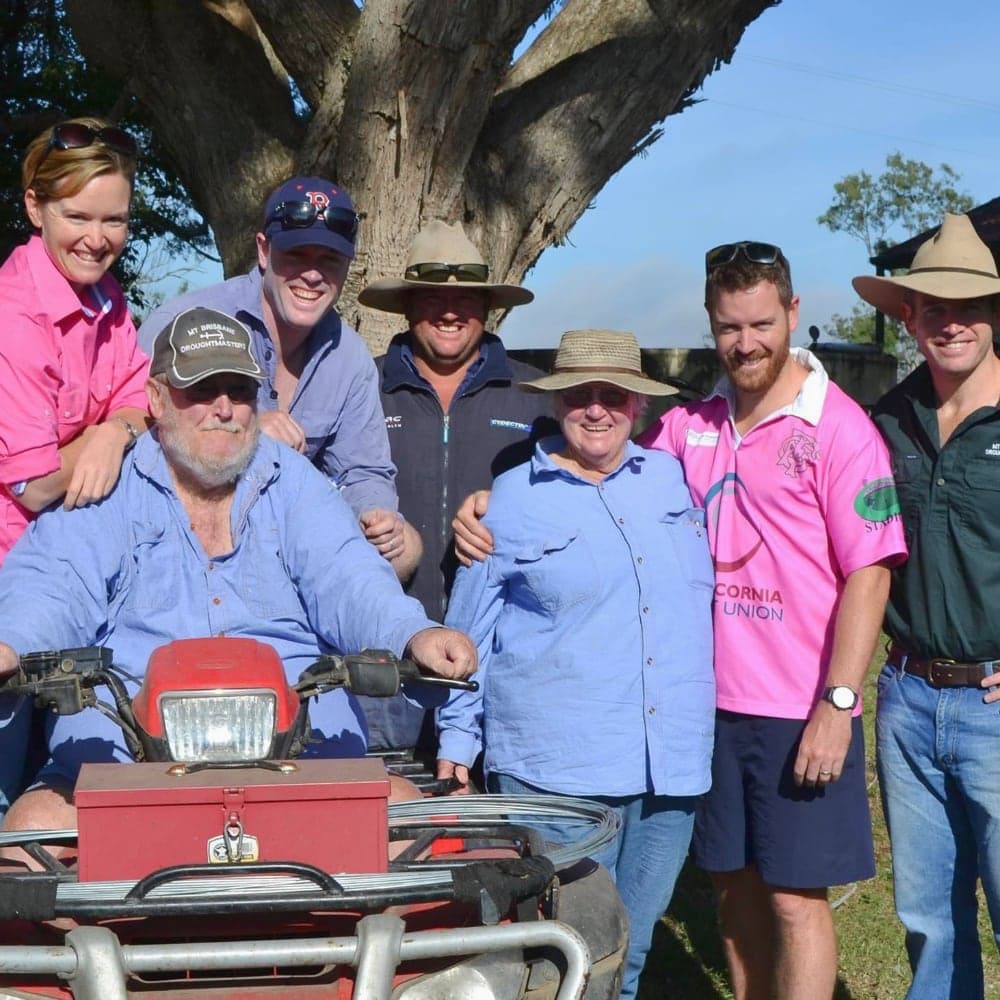 Carli
Carli who is a life member of the Droughtmaster Society lived and worked on several western Qld properties before marrying John and moving to Mt Brisbane in 1972. After raising 5 children she is enjoying her 13 grandchildren and seeing them spending time learning about Mt Brisbane. She spent many years on various agricultural and cattle boards and committees but has stepped back from all those now days, although she is still working on Mt Brisbane.
John McConnel passed away in 2019 after a period of ill health, he was the 3rd generation of the McConnel family to own Mt Brisbane, John's passion was in the show community and carcass competitions. He was a life member of both the Droughtmaster and Esk Show Society's, but his proudest boasting was of his growing herd of children and grandchildren and their achievements.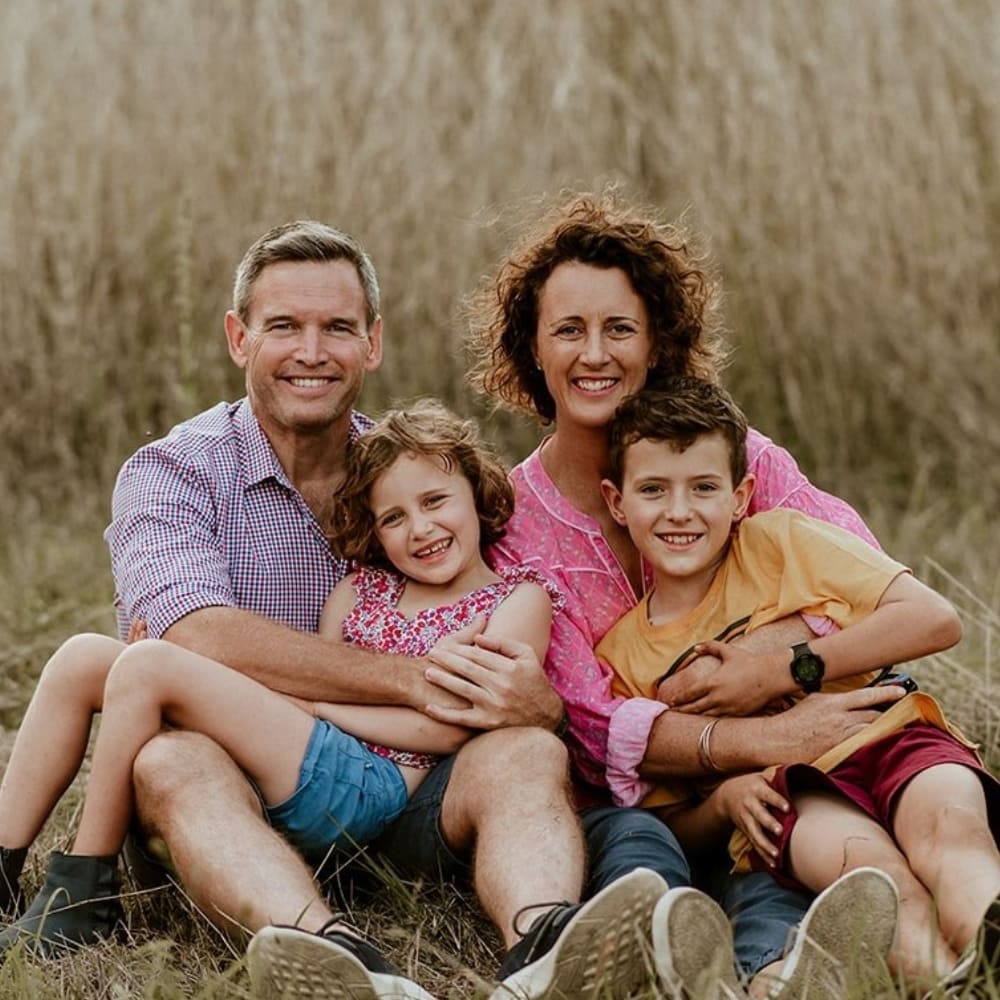 Rob
Rob is our eldest son; he is married to Dinie and they have two children Andrew (known as Roo) and Mary and live in the Western suburbs of Brisbane in Brookfield. After time at Robb College at UNE, Rob initially worked in rural finance across Tamworth, Rockhampton and Longreach before moving to the city to pursue a career in corporate finance. He is currently working in Brisbane as a senior Partner in Deloitte's M&A team after time in their private equity team in both London and Sydney. At last count he had a Bachelor of Agricultural Economics, Master of Commerce, Master of Applied Finance and Investment, an MBA and has completed his CA. In contrast to this, he is always an enthusiastic worker on Mt Brisbane and returns whenever possible to give a hand. Rob is also a rugby tragic having played for Queensland Country and bush rugby for clubs such as Robb, Tamworth and Rockhampton Brothers but now settles for following Roo and Mary around their various sporting fields.
Susie
Our daughter Susie Sullivan is based at Dalby with her husband Luke and three children.  Susie has worked in Agribusiness finance for 19 years working as a senior Agribusiness Manager prior to having children and now working in support roles part time.  Susie and Luke run their own agronomy consultancy business servicing growers across the Western Downs region.  Susie and her family remain actively involved in the running of Mt Brisbane and their eldest is now attending junior cattle camps showing interest in the beef industry.  Susie has spoken at many industry events over the years on topics ranging from 'Obtaining Finance' to 'Selection of Cattle' and is a regular judge at stud beef cattle events.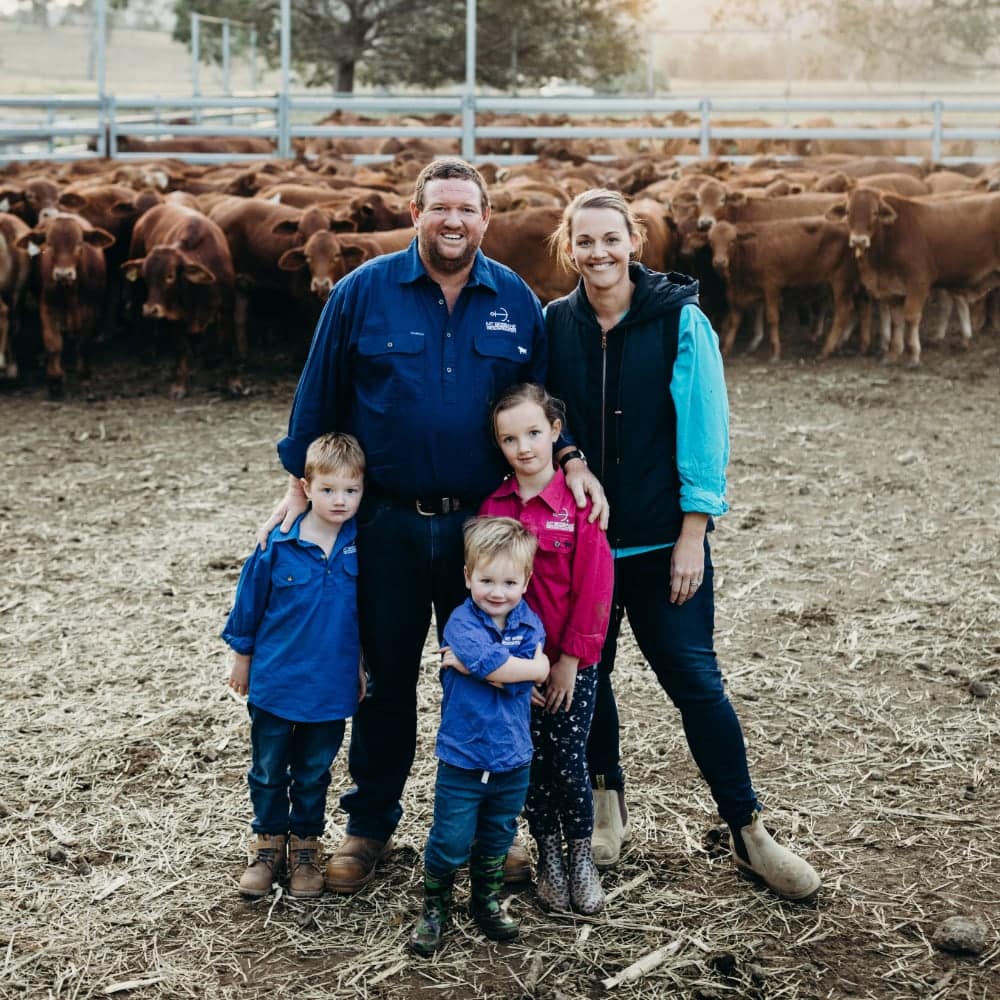 Don
Don along with his wife Andrea and children Audrey, Stirling and Digby, manage the day to day running of Mt Brisbane. They are actively involved in community events, Don is a classifier for the Droughtmaster breed, is involved in local cattle shows as an exhibitor as well as judge. He is very proud to have been invited to judge twice at EKKA, Beef 2018 as well as many local shows. 
Don's focus is looking for ways to lift production on the property through better pasture and animal health management, this saw him take part in the Virbac Multimin Challenge where he was named Australian runner up.
Ian
Ian married Sheena in 2007 and had Ailee in 2009 and Sam in 2011.  Ian is Tyson Foods Director of Beef Sustainability, leading the company's efforts to deliver sustainable beef to customers in Australia and around the globe. Before joining Tyson, Ian spent a decade as WWF's Global Lead for Livestock supporting sustainable development in the beef industry across 22 countries and 8 years as a Beef and Sheep Extension Officer with the Queensland State Government- firstly in Longreach then in south-east Queensland. He is also the Vice-President of Global Roundtable for Sustainable Beef.  He gained a Bachelor of Applied Science in Animal Studies at UQ Gatton and then spent a year at Colorado State University supporting meat science and genetics research. He is a past Australian Rural Youth Ambassador and Beef Industry Rising Champion and a passionate 'agvocate' for the role of sustainable agriculture in a modern world. Sheena is a Teacher at Buderim Mountain State School. While he's becoming a middle aged man, he is still a keen runner and Cricketer and supporter of his kids sporting endeavours.
Bruce
Bruce is our youngest son and is married to Alison.  Together they have three young boys Lachlan, James and Archer. Bruce completed a Bachelor of Agribusiness at UQ Gatton before commencing work in Agribusiness Banking in 2002.  After 16 years in the finance sector, ending as the Regional Manager of Southern Queensland, Regional and Agribusiness Banking at the Commonwealth Bank, Bruce moved to become the General Manager of TSBE's Food Leaders Australia.  In this role Bruce works with all aspects for the agrifood supply chains to help them innovate, network, export and learn. Bruce remains active in the Queensland Show's, and is currently Vice President of the Royal Ag Society of Queensland.