Eric John William McConnel
22nd June 1945 – 9th July 2020
Written by the McConnel Family
We lost a great Husband, Father, Grandfather and Cattleman with the passing of John McConnel on 9th July.
Born Eric John William McConnel on the 22nd June 1945, John was the second child of John (Keith) and Barbara (nee Hart) McConnel.  Sister Eleanor (later McNab) was born two years prior.
Early schooling years were spent at Somerset Dam State School before later boarding at Church of England Boys School (later to become Toowoomba Prep) and then to The Southport School. 
After some time jackerooing around Moree, he returned home to work alongside his Father on "Mt Brisbane".  The property in these days was a fattening block with bullocks brought down from Central Queensland.  Breeders were introduced in the 1960's.
John married Carolyn (Carli) Murray in 1972. The couple made their way to "Mt Brisbane" and almost immediately took over the running with Keith & Barbara moving to Brisbane.
Those early years of marriage saw them thrown straight into the beef crash.
It was during the 1974 floods John was to grow the red beard that made him so identifiable for the rest of his life, earning him the title of 'Bushfire' to which he was readily known to many friends.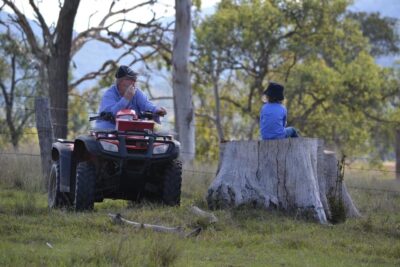 Children came in 1974 with the birth of identical twin boys Andrew and Robert.  Their world was rocked with the loss of their beloved 'Drewie' in 1977. Daughter Susan was born in 1978 followed closely by Donald in 1980 and another set of identical twin boys Ian & Bruce in 1981.
The 1980's saw a period of expansion with adjoining property "Mt Byron" acquired in 1981 followed by 'Top Right' some 5 years later.  John & Carli were able to double the size of Mt Brisbane which by that stage was a complete breeder operation turning off finished bullocks direct to works.
Droughtmaster Bulls were being used with the first sourced from The Vet School and then Truvalle before the Mt Brisbane stud was registered in the mid 1970's as a way of breeding their own bulls.
John loved his prime cattle and was a regular exhibitor at shows throughout South East Queensland later moving onto carcase competitions, particularly those with feedlot trials and then later when the kids were interested the family entered stud cattle and led steer competitions.
John & Carli wrote the newsletter for many years for the Droughtmaster society and both served on the Board of Directors, John serving first as an elected representative of the Southern Zone.  It was for these roles and their promotion of the commercial relevance of the breed that both John & Carli were awarded Life Membership.
John was actively involved in the Esk community, through the Esk Show of which he was President and later awarded Life Membership.  He was a regular worker and on the committee of the Esk Jockey Club and he was active in the rural fire service, recently being awarded the QFES medal for meritorious service.
John's most cherished role was as grandfather to thirteen Grandchildren who we hope will have great memories of their 'Grumpy'.  The family all remain actively involved in the property now and the legacy of John and his family before him will continue well into the future.